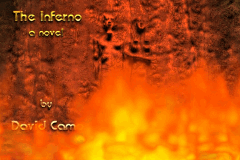 The Inferno (c1998) is a 43,000 word novel about

a young shaman on another planet. His discovery

of a secret society evokes memories of previous

lives as a magician and brings him in contact with

an old enemy. Alone and hunted, he is tempted

to unleash dark forces to fight his enemies.




I wrote The Inferno between 1990 and 1998.

I chose to publish it here because it is too

short for the fantasy market, and because

my web art project has roots in this novel.

The subject of both is states of consciousness.

One early reader, a parapsychology researcher,

read The Inferno three times in one week.

Another reader said it changed her life.

I view The Inferno as a work of alchemy.




On the day I chose "The Inferno" as my title,

I later arrived at the library where I worked and

found two copies of Dante's Inferno on my desk,

a new copy and the old copy it was replacing.

This was the first of hundreds of Dante-related

coincidences or synchronicities in my life.




Only one piece of mine was ever featured in a show.

An early Goddess piece made its way, on its own,

to a featured spot in a window of the Lincoln Center.

I learned later that there is a Dante Park

Across the street from the Lincoln Center.

This was in 2000, the year a flurry of Dante

coincidences laid the seeds for my project.

If a picture is worth a thousand words,

my project will equal 100 700-page books.

No language is more universal than images.